"I know it allows him the opportunity to forget about his disabilities and that is priceless."
Adam: "Margaret Haes Riding Centre has genuinely helped change our lives. My Civil Partner, Adam loves horses, I mean really, really loves horses and from when we first met all he wanted to do was to get back to horse riding. MHRC from the very first second we got there has helped Adam grow because he is now more outgoing, much more communicative and is so much more happier and positive after a couple years of hardship and sadness. Watching him come to life when he is with the horses but it goes up a notch when he is actually riding. I know it allows him the opportunity to forget about his disabilities and that is priceless. As for me, I have suffered with depression, anxiety and stress for many years now and knowing how safe Adam is at MHRC means that I do not have to go through any worry because all the staff and volunteers are just a fantastic community / family who support every person who happens to cross their path. I now get myself involved, which helps my own mental wellbeing but it is an honour and a privilege to give back to this wonderful organisation who has not only made my husband shine but also helped me to have a little of my own life back."
"listening to him laugh once he realises where he is going makes my day."
Rider J: "My son is profoundly disabled, non-verbal and requires full care. He cannot be entertained with craft, books and games. He loves riding. Just having a focus for the day, something to get up for is massive. Leaving the house and listening to him laugh once he realises where he is going makes my day. So you can see how important this is for both him and me."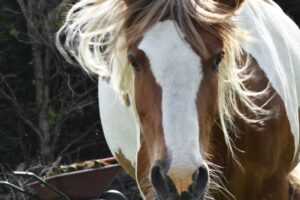 To the casual observer it may look like all the rider has to do is just sit there. The horse does all the work, well anyone who has ridden a horse will know how wrong that is. There is far more to riding a horse than one might expect. The benefits of horse riding are immense enjoyment, physical and mental fitness and a chance to enjoy the open countryside.
Physical
Horse riding develops balance and improves coordination and motor function. Other advantages include strengthening of muscles, reflex acceleration, prevention of muscle cramps, increased joint mobility, boosting the cardiovascular system , improving blood circulation, stimulation of sensory integration, improved visual perception of space, the development of responsibility, patience and self-discipline, increasing self-confidence
Horse riding is an enjoyable hobby and sport for adults and children alike. Children can learn the responsibility of caring for an animal. As you groom, clean stables, carry saddles or equipment you are also doing weight bearing exercise that helps maintain bone mass. Horse riding is an enjoyable hobby and sport for adults and children alike. Learning to control and care for an animal much larger than yourself can have a profound affect on your confidence and is a great feeling. Riding is a great way to get out and see the surrounding countryside bringing the rider closer to nature. Simply being outdoors and enjoying the countryside will boost your general wellbeing and act as a great stress buster. There is a real sense of exhilaration and freedom when you ride, a feeling that is second to none.
Mental Health
At first you may feel that just learning to stay on and steer the horse is a challenge. When that becomes easy many more learning opportunities present themselves. As you progress with riding and horse ownership you will always have questions and problems. Even the most experienced equestrian would admit there is always something new to learn. Research has shown that lifelong learning may prevent memory loss. Just like your muscles your brain needs exercise to keep young and supple. Riding provides an active avenue for keeping your brain exercised. It plays a role in managing negative feelings including those relating to depression and anxiety.
For many a horse is a connection with nature whether they ride in the arena or on a trail. Many people find companionship and solace while working with their horse. Although riding can present its frustrations and challenges most people find it a relaxing pastime. The companionship of people who enjoy similar activities is also appealing. It's fun to get together with friends for a lesson, trail rides or visiting local equestrian competitions. For some riders communicating is not easy, but by using the horse as a catalyst an opportunity arises to interact with the helpers and other riders benefiting both the riders and helpers alike. Many horse owners feel their horse is somewhat of a kindred spirit in tune with their own feelings and emotions; more so than any human companion. In times of stress a horse can be a quiet friend, who is without judgment.
Those with limited mobility are able to access the outdoors and participate in physical activity that they would otherwise be unable to do.
Participation in horse riding provides a range of psychological and social benefits, some of which are particular to the interaction with animals and nature and therefore would not be gained from other sporting activities.